Siapa Saja Sih Pemenang Female Daily Best of Beauty Awards 2020?
Acara tahunan Female Daily kembali dilaksanakan tahun ini walaupun dalam format virtual. Siapa aja ya kira-kira pemenangnya?
Walau biasanya event Female Daily Best of Beauty Awards dilakukan secara offline dengan mengundang para brand, tapi tahun ini memang ada yang berbeda. Karena tetap ingin menghadirkan acara ini untuk para FD Members dan juga seluruh brand kecantikan yang ada di Indonesia, akhirnya kami menyajikan Best of Beauty Awards 2020 secara virtual di channel YouTube Female Daily pada hari Selasa, 8 Desember kemarin. Kalau kamu belum sempat lihat acaranya, yuk langsung cek video di bawah ini buat tahu apakah brand kesayangan kamu berhasil memenangkan awards dari Female Daily!
Lalu, untuk mempermudah kalian melacak pemenang dari Female Daily Best of Beauty Awards 2020 ini, saya juga melakukan rangkuman dari setiap kategorinya di bawah ini.
Winners for Beauty Tools Category
Winners for Hair & Body Category
Winners for Fragrance Category
Winners for Skincare Category
Winners for Makeup Category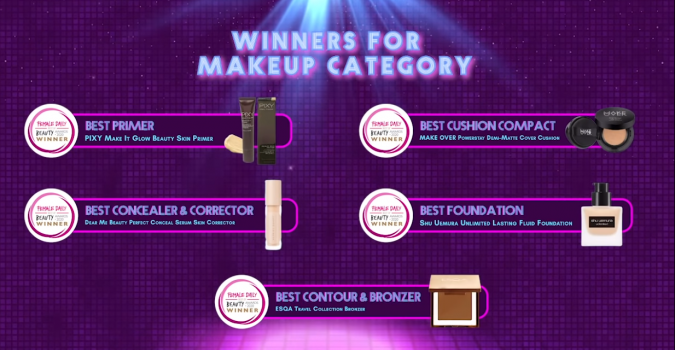 Winner for Best Beauty Treatment
Winner for Best Beauty Clinic
Favorite Indonesian Makeup Artist
Favorite Indonesian Beauty Content Creator
Winner for Best Campaign
Best Newcomer Local Brand
Local Brand of The Year
Yeay! Congratz buat semua pihak yang sudah mendapatkan awards pada acara Female Daily Best of Beauty Awards 2020 ini. Semoga bisa menambah semangat dan bisa menghadirkan inovasi yang luar biasa di tahun berikutnya.  Kami juga berterima kasih kepada seluruh brand yang sudah hadir meramaikan dunia kecantikan Indonesia dan membuat industri ini menjadi sangat berwarna.