Inherit Instant Good Genes with Sunday Riley
I have dealt with issues like acne, redness, and sensitivity since puberty. I started puberty in the third grade, so that's another issue in itself. Going to dermatologists didn't give me anything other than having to shell more cash out of my pockets. On top of that, my mother wasn't exactly the type who enforced me to be extra diligent in taking care of my skin. So whatever knowledge and skincare regimen I have right now are based on my own research, trials, and errors.
I have been upping my game in my skincare regimen lately, and the progress is showing significantly good results. There is nothing more rewarding than having great skin, simply because I didn't have it to begin with.
One of the products I have been loving recently (and has been doing wonders for my skin) is from a brand that Dhany recently made a Wednesday Wishlist out of: it's called Sunday Riley Good Genes Treatment.
Usually in skincare reviews, I would rarely make any comments on the packaging. However, Sunday Riley is really going the extra mile in the presentation of this product. The bottle is packaged in a nice sturdy box with graphics and descriptions of the product. And the bottle itself is a stylish frosted glass and with gold details.  It would look posh on anyone's vanity.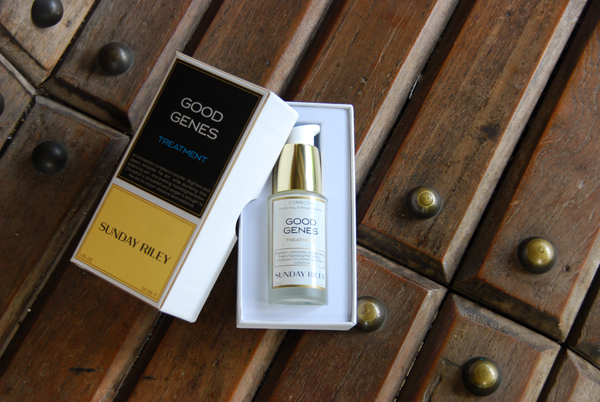 I stumbled upon this product when I was searching for a new serum that I can use at night. It didn't take long for me to order this as most of the reviewers gave great feedback. But in the back of my mind, I was still unsure about what this product exactly is. According to the description, there are two ways to use Good Genes:
As a serum, by massaging 3-4 pumps daily onto clean, dry skin.
Can be used as a mask more intense treatment. Apply generously (5-7 pumps) and leave it on for 20-30 minutes then rinse or tissue off the excess.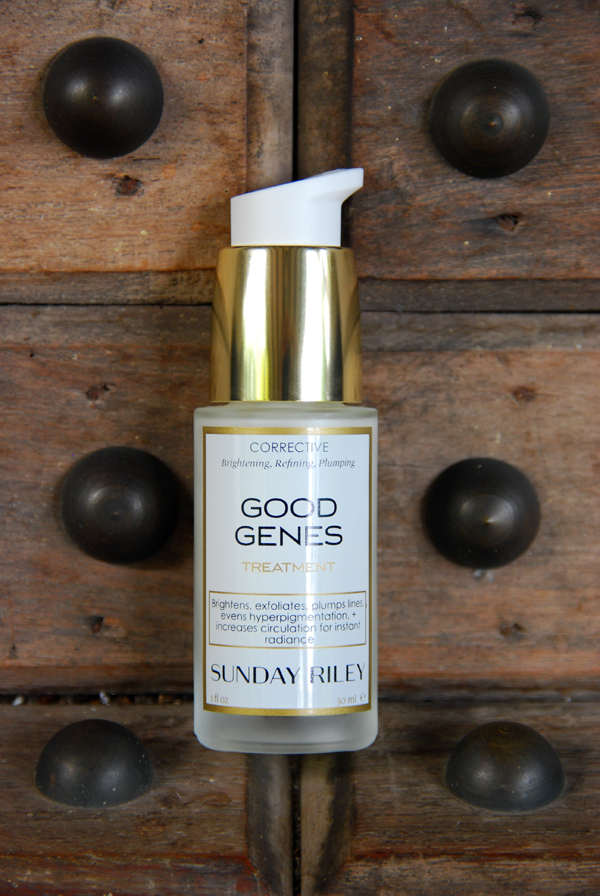 To date, I've only used it as a serum and have found that one pump is more than enough for my own needs, so 3/4 pump is ideal for me. The texture is a thick lotion, uncommon for a serum which usually comes in a runny liquid. It also has a lemony, citrus scent, which is quite calming. There was a slight stinging sensation the first time I applied it, something that I'd also get from FAB Facial Radiance Pads.
Within 3 nights' of use, I can already see a huge difference. It strips away dullness and exfoliates, leaving me with glowing, smooth, radiant skin.  Wow. I mean, there's glowing, and then there's GLOWING — and Good Genes is the latter. Fast forward two months later, and my spots are lightened, skin tone is more even, and the texture of my skin has improved significantly. There's just something really special going on here. Good Genes is more potent and effective than everything I've tried so far. I'm no skincare guru like DesZell, but when a product gives me results like this, I have to say something about it.
I like to use it for a week straight, then go back to my normal regimen for 2-3 weeks before coming back to this again. This timeline gives me the best optimum results. I also like to use this if I have an event coming up in the week. I can rely on this to give me that immediate complexion booster.
People around me have been giving compliments about my skin and I am floored by this. I look up at my face in the mirror and smile with contentment. I can't believe how good my skin looks now. With great skin, makeup application is easier too, smoother results and more natural in general.
It is on the expensive side at US$105 for a 1oz bottle, and it runs out pretty quickly too due to its thick consistency. But man, the benefits I get from this! Good Genes has delivered every bit of the word that it promises to be, and it's worth every penny.
Will I repurchase this? You can bet on it 😀