Supple & Younger Looking Skin: Trilogy Rosehip Oil Antioxidant+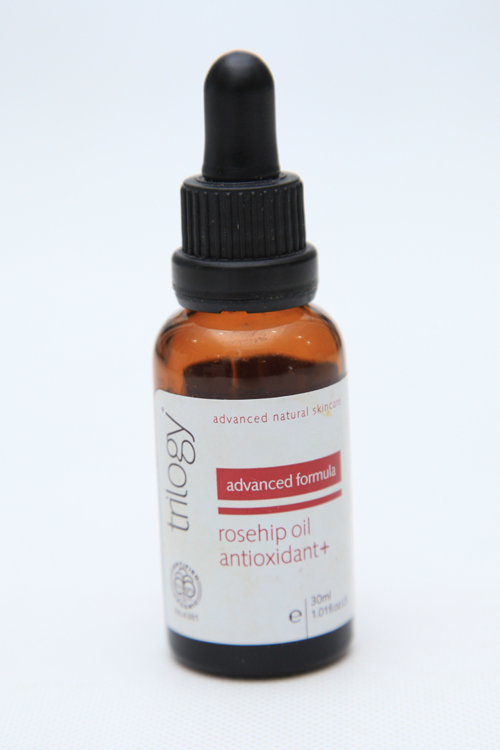 I tried Trilogy Rosehip Oil Antioxidant+ after using the original Trilogy Rosehip Oil and quite pleased by the result. It might be odd that I review this one first before the original one. But from what I understand, the original Trilogy Rosehip Oil is more potent for all around beauty oil, whereas this version will be great for face. Actually, since this one is much more expensive, AUD 30 for 30ml compared to 45ml of the original one, of course I only use this for the face. I promise I'll write a separate review of the original one.
For those of you who's not familiar yet, let's start with the basic.
What is Rosehip Oil?
It's a honey coloured oil extracted from Rosehip seeds and has been known to contain potent active ingredients used for centuries to heal scars and rejuvenate the skin. It's also known for its properties to also heal stretch marks, wrinkles and hydrate the skin.
Many skincare products nowadays use Rosehip oil as one of their ingredients to provide long-term hydration.
But on its own, it's still a very potent product to be used on your skincare regime.
The star ingredients?
It contains the following:
Omega 3 and Omega 6 essential fatty acids that provide hydration, thus making your skin supple and improve its elasticity.
Beta-carotene that will help with skin cell renewal and repair.
Also Rosehip oil absorption into the skin is way better than any other oil, which is very true, because the lipids found in it are similar to those in our skin.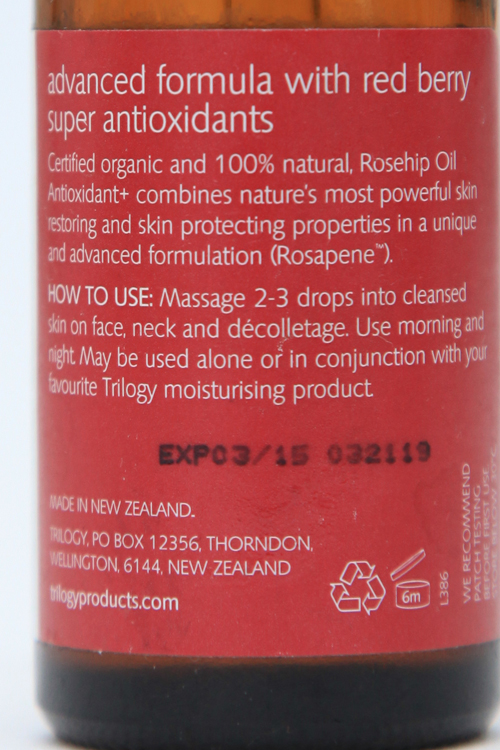 What is Trilogy Rosehip Oil Antioxidant+?
It's all that is promised in Rosehip oil and more. Way more, actually.
The added ingredients are, the renowned potent Trilogy Rosehip Oil combined with:
Rosapene which is a red berry seed oil blend that will gives daily antioxidant protection against external aggressors (pollution, weather, etc). Rosapene also promises to make your skin softer, supple and younger looking.
Lycopene from Tomato, another antioxidant.
Phystosterol from Acai – a famous antioxidant too – that will protect skin from premature ageing.
Added essential fatty acids from Cranberry, which means more nourishment for the skin and extra hydration.
Mineral and oat that gives soothing effect.
How to use?
I usually use 3 drops for my face. I find that by combining it first with toner that doesn't contain any alcohol helps to dilute the oil, allowing it to absorb into the skin better; a trick that I learnt from Clarins. I use a little spray of Avene Eau Thermale spray on my palm and then 3 drops of Trilogy Rosehip Oil Antioxidant+.  Mix the two together between your palms, and cup both sides of your face with each palm.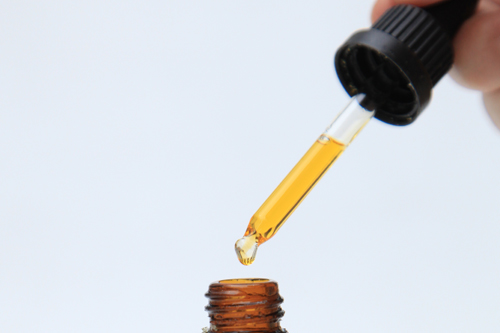 The Review
Amalia (dry skin and sensitive at times)
Which is basically my review, LOL!
I tried this because I've previously tried Argan oil and it's not working for me, too thick and it doesn't sink in quite well with my dry skin. That was why I've moved on to the Rosehip oil that promises hydration. Trilogy Rosehip Oil was what I've tried first, it worked wonders to my skin. It left my skin looking hydrated and supple, without the added benefit of serum! Imagine that. So, I just gave this one a go, because I thought, this couldn't get any better.
I was wrong. This is way better and I haven't looked back to the original version since (nowadays, I only use the original version for my tummy, decolette and anywhere with stretch marks).
Using the hydration method mentioned above, and I apply this after I cleanse and use my toner. I use it as a replacement of my moisturiser. When I use this alone without any serum or adding anymore moisturiser, my skin can stay hydrated up to 18 hours. It has a light feel (maybe because it's also mixed with water), sinks directly into my skin and at the same time, makes my  skin look dewy from the oil. But when I blot it with a blotting paper, it doesn't look like an oil well at all. Two weeks of using this alone and I swear my skin looks way brighter and suppler. I didn't experience any redness or extra dryness, which I usually do around my PMS period. Oh, and I never have a tired looking eyes, even though I didn't use any eye cream.
After using it for alone for two weeks, I also added Clarins Shaping Facial Lift serum. Again, learning from Clarins application technique, where they apply some kind of essential oil after toner followed by serum, this is what I did. I applied the Trilogy Rosehip Oil Antioxidant+ first, followed by Clarins Shaping Facial Lift serum. It's a creamy lotion type serum. The result? The serum seals in the oil perfectly and it tames down the dewy and oily finish. So if you don't like the finish of a beauty oil on your face, consider combining it with lotion type serum.
Overall verdict, though I didn't see any improvement with my fine lines, scar marks and spots but the long hydration and the supple feel of my skin makes this a very recommended product from me. Although, in the case of new acne, I found the combination help dry out the acne faster than usual.
The conclusion? Buy!
Lena (oily skin)
I chose to try the Trilogy Rosehip Oil Antioxidant+, just because I like the list of ingredients better than the single-ingredient Rosehip Oil. You gotta add salt to that egg, right? This is not the first facial oil moisturizer that I've used. I'm a regular user of Burt's Bees serums (which are essentially oils in bottles). I usually use them as night moisturizer, patting them on over a clean face. My method is to place a few drops in the center of may palm; rub my palms together slightly, then press each of my palm to an eye, leaving them on for a few seconds before moving to other parts of the face and neck. A nice thing about using oils is you can use the same product for your eyes, face, neck and even lips, saving time in the process. This was how I used the Trilogy Rosehip Oil Antioxidant+ for about 2 weeks.
A few weeks ago, I had some work in East Timor, which at the time was entering the time when they have the lowest humidity. So you don't sweat even when the sun is shining and it's hot. For my oily facial skin, it's great since the skin stays relatively matte. Knowing this, I purposefully used Trilogy's Rosehip Oil Antioxidant+ as a day moisturizer as well. I put them on in the morning, then top it off with a tinted moisturizer. During the day, I re-apply sunscreen several times.
The verdict? After two weeks of being out in the sun (sometimes up to 3-4 hours a day), I did not have any sunburn or redness, my skin stayed relatively moist and healthy, I did not experience any breakout, and everything is A-ok.
Granted, I don't really have any problems with my skin except the normal aging process. Sure, there are some sun spots, but they're not something I zealously try to erase. So I can't really point to a specific improvement due to using Trilogy's Rosehip Oil Antioxidant+. But the ingredients are good, the application is pleasant, the skin stays nice and supple, and it doesn't cause break-outs or other skin problems. For these reasons, I would recommend you to at least try the this product for a few weeks to see if it works for you.