One Blush Fits All; Get Rosy with Dior!
One of makeup items I always have my eyes on are blushes! There is always an excuse to buy another shade of coral or pink or whatever my heart wants to, even though the color looks somewhat similar with what I already have. And I've always wondered if I could ever find a blush that I could stick to loyally. I think I might've  just found it. 😉
Introducing Dior Rosy Glow Healthy Glow Awakening Blush.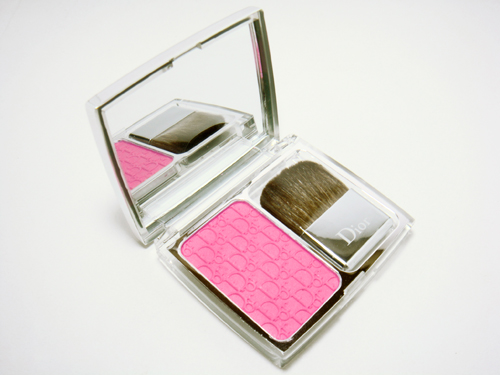 It is another mouthful name from Dior (read: Dior Nude Tan bronzer), but the name delivers. Dior Rosy Glow is marketed as a self-adjusting blush that will react to the skin's natural chemistry and create a natural, tailor-made, flushed cheeks. So, it's a one-shade-fits-all blush. Sounds exciting, eh?
As with every high-end brands, the packaging is nothing short of chic. This blush is encased beautifully in a mixture of silver and clear acrylic. It comes with a brush as well. I rarely use any of the brushes or applicators that come with any products. But I can feel that the brush has soft bristles and might actually does a decent job at applying the blush. And not to forget, it comes with a black velvet pouch too.
The blush is embossed with Dior logo monogram and quite deep too.  I've been using it for the past couple of months and the monogram has just faded slightly. It has a light rose scent to it as well.
The bright blue-toned pink is a shocker in itself. Some might cringe at the sight of it. Believe me, I did at one point. When swatched, it shows up a baby pink shade on my finger and pretty much the same on my arm. Sorry for the blotchy photo of the arm swatch, I tried to edit the color to be more intense because it turned out to be too pale to show up in the photo.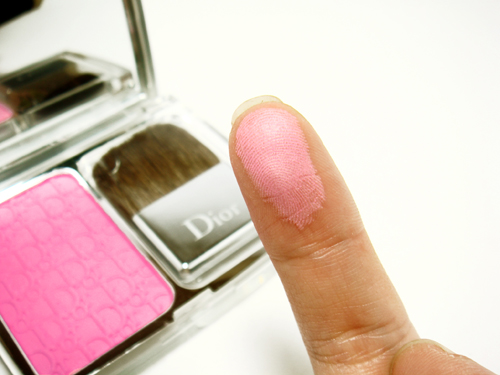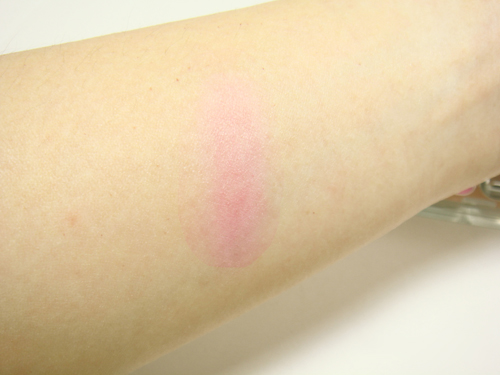 Well, judging by this, you'd think "Oh there's nothing different or any significant change in the color". But wait until you apply it on your cheeks. It's a completely different story.
The blush is very finely milled and buttery soft. There's no powder flyaway. Seriously, the pigment just sticks to my brush and on to my cheeks so smoothly. Efficient. Blending is a breeze. I only need a little bit of this to show up on my cheeks. The whole self-adjusting formula starts to work its magic right away, giving me a rosy pink (more rose) shade. Very natural, indeed and it lasts all day. My complexion looks awaken and bright. Wait, did I just say awaken? 😉 See, the name fits the product, beautifully.
I'm very happy to have gotten this and added it to my collection. I think it's a very easy, no-brainer blush to use on a daily basis or whenever I'm in a hurry. I practically had to try hard not to reach this as often, so I could give my other blushes some love. I wasn't sure about the whole promotion line, but I'm glad that it does give a significant different shade from the pan to my cheeks.
Dior Rosy Glow is USD 44 and contains 7.5 gr of product, which is a lot more than what you get in most blushes. It's a good thing I don't have to worry about running out of this blush anytime soon. Not that I've ever ran out on any of my blushes anyway, yet.
On the description label, it's coded as 001 Petal, which gives a possibility that Dior might come out with 002 Coral, maybe, hopefully? Just a thought 🙂
P.S. There is a cheaper alternative, I'll share it soon!