Bright & Glowing with Radiance Pads!
My first encounter with First Aid Beauty (FAB) products was back when my skin was purging with Clarisonic. I bought the set that consists of Ultra Repair Cream, Face Cleanser, and Facial Radiance Pads. After Ultra Repair Cream (reviewed here) saved my distressed skin, now it's time to take it to the next level.
Today's review is about its Facial Radiance Pads.
This is my first ever trying on complexion pads. And naturally I wasn't sure about how to use it when it first arrived. After quick (thorough) readings, I gave it a try and never looked back.
"FAB Facial Radiance Pads contain just the right amount of lactic and glycolic acids to make them safe and effective for daily use. Cucumber and Indian gooseberry tone the skin, while lemon peel and licorice root leave the skin bright and glowing."
Taken from www.firstaidbeauty.com
Bright and glowing? You're kidding right? No, I am not.
As I said earlier, my skin was purging from Clarisonic. I had to change my whole skincare products and improve my regime. When I first tried it, my skin was still in early stages of recovery. This sort of stripped the dead skin off my face and to be honest, it was rather a painful experience. It stung my sensitive skin (it still does sometimes when my skin is acting up). So I stopped it.
A couple of weeks later, I gave it another try, when my skin was already in a better state. It still stung a little, but I have my Ultra Repair Cream to soothe the pain right away. In the next couple of weeks or so, I can see the difference, a very good one. My face looked so much brighter, less red and glowing! It reduces whiteheads and any upcoming pimple that's just starting to surfaced. I used to have a lot of bumps on my nose. Thanks to these pads, they are all pretty much gone. My nose is still red, but that's just the high sensitivity of my skin around that area.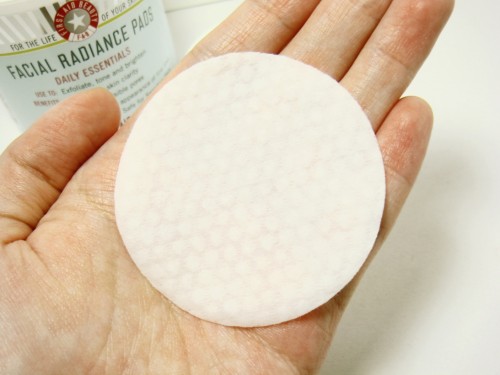 The pad is smooth on one side and textured on the other.
Other than my face, I like to wipe this over my neck, décolleté and back. I had a lot of bumps on my chest and back and these pads have helped to clear them up. My chest is clean and smooth now. I can wear lower-neckline tops without worry.
I use it once in every other day at night time, after cleansing and before moisturizer, in which I happily announce that I still use Ultra Repair Cream. I don't want to use it too often as I'm afraid it might be too harsh on my skin. Besides, these aren't exactly easy to get, so I have to be wise with the usage. But even so, I still can see that it works amazingly on my skin.
As with all FAB products, these pads have no parabens, harsh chemicals or colorants and it is safe for sensitive skin. What's not to love, really?
FAB Facial Radiance Pads is sold at USD 28 on Sephora. One tub consists of 60 pads which could last 2 months or so depending on the usage. I'm on my second tub and going to repurchase it again when Sephora has its spring sale (while hoping that I would still have enough pads to last me). Hey, a girl likes a sale no matter what. I'd still gladly buy them at full price nevertheless, because they are just that awesome 🙂
Interested to try? Get it from our own Beauty Warehouse @ MarketPlaza!