New Product In Town: Talika Skin Retouch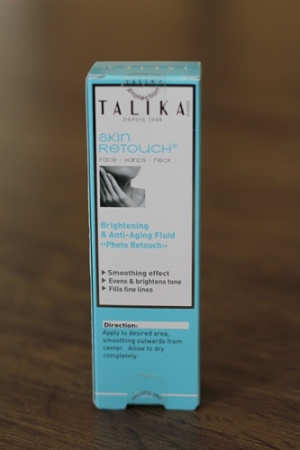 Let me introduce Talika Skin Retouch –  this is the best product that we can see the result right away in a few seconds.  Skin Retouch is inspired by Photoshop techniques. As we know, in a professional photoshoot, all the photographs are Photoshopped or edited in such a way, the models must look flawless!  Skin Retouch acts as an instant corrector of time by playing smartly with light. The skin looks immediately younger, erases fine lines and wrinkles, literally.

What It Claims :
Evens-out skin tone by hiding shadows and blotches
Blurs fine lines and wrinkles
Tightens pores
Gives you smoothing and matifying effect
in 28 days: anti-aging and whitening effect
Results :
Instantly:
Skin tone is more even
Skin is more smooth
Skin is more matte
Fatigue is less noticeable
I haven't tried it for 28 days and so I can't say much about the anti-aging and whitening effect.
How does it work?
Stretch texture: smoothing skin by filling wrinkles, fine lines, pores and dehydrated lines, without clogging the skin. Mattifies and reduces shine.
Soft focus pigments: small pigments slip inside the wrinkles, fine lines and pores; the large pigments cover imperfections on the surface to reflect light evenly. Through a brighter complexion, the face looks younger.
Directions for use :
Apply on cleansed skin, after your skincare routine.  Skin Retouch is the LAST product that you apply before you put powder or mineral foundation on top of it.
Click to rotate and unlock Skin Retouch's applicator spatula.
For best results, squeeze out a small amount of product at a time and ONLY use built-in spatula applicator to smooth a thin layer onto surface of skin.
When entire surface of desired area is veiled with an even, wetlayer of Skin Retouch, allow to dry completely. Do not rub in. Do not apply with fingers.
For whom?
All who want an immediate solution for younger or smoother looking skin.

When :
Every morning with or without makeup.
Anytime during the day, as a corrector.
What I love about this product?  It gives an instant effect, no waiting for long-term results, easy to apply; a small dose is enough for flawless skin without a "plastered" effect.  And because of the transparent formula, Skin Retouch is a unisex solution suitable for all skin tones.
Deszell loves this product because she said that it gives a smooth complexion in just an instant. Let's hear what she has to say about this product:
I love to use this product when I want to look prim but without looking like I'm wearing too much makeup. Just something to even out my complexion and keep the shine at bay. Because after using skincare products in the morning, your face could look very shiny, right? So I use this product couple of minutes after my skincare and apply translucent powder after it dries out. The result? I see a more even complexion, just like when I use tinted moisturizer, but the difference is that this actually has a really matte finish and velvety texture on the face. I also noticed that even though I only use loose powder, my face doesn't look shiny at all for the whole day. Despite having a dry skin, but when you only use loose powder, your face could get shiny real fast. Now, I always carry this in my bag, for one of those days where you have unscheduled meeting pop out of nowhere, and you have to do your makeup quite fast.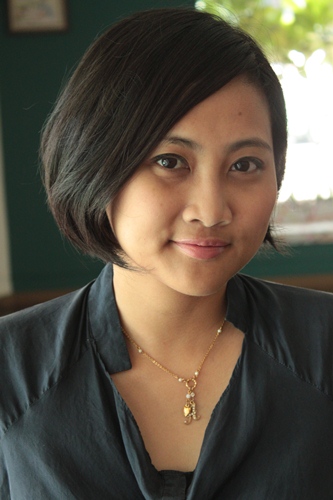 Talika Skin Retouch retails for IDR 485,000.  If you like matte smooth finish for your skin, I highly recommend you this one.