Fashionpedia: A Tale on Kebaya Kartini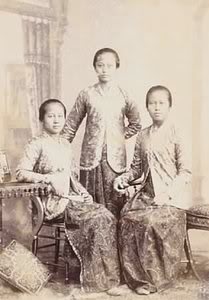 Maybe we don't wear kebaya anymore on Kartini Day like when we were kids, but we can't help but associate the special day with kebaya whenever we think about it.
Usually the kebaya worn wear during Kartini Day is the simple one, made out of cotton, with uncomplicated but pretty embroidery, just like what Kartini used back in the days. Very different with the tight fitting kebaya in lace or tulle, adorned with glamorous sequin, and worn with bustier.
During that period of time, even though most women wore kebaya, they didn't just consider it as a piece of clothing, but also as a symbol.
"As a  symbol, the kebaya is laden with paradoxes: it has long come to symbolize the emancipation of women in Indonesia through a representation linking the kebaya to the 19thcentury "proto-feminist"  figure of Raden A. Kartini.  In an annual celebration commemorating the life of Kartini, young school girls across Java and other regions of Indonesia wear traditional costume, which include the kebaya. In this use of the kebaya, we see the blouse simultaneously representing both 'progress' and 'tradition'."
(Victoria Cattoni, Reading the Kebaya)
This description of simple kebaya, from the outstanding documentations, is a model of kebaya worn by noble women during the era of R.A. Kartini, which is why, known as 'kebaya Kartini'. It was similar to another piece called 'kebaya encim'. What is different between the two is that usually kebaya Kartini has folds on the collar, forming a vertical line through the front.