The Chronicle of Bonnie Cashin
Every week at our office, we had a session that we called sharing session. Bonnie Cashin was my topic for my last turn of sharing session because as a designer, she's a pioneer in so many ways and she broke the glass ceiling for women in the industry of fashion by holding top executive position.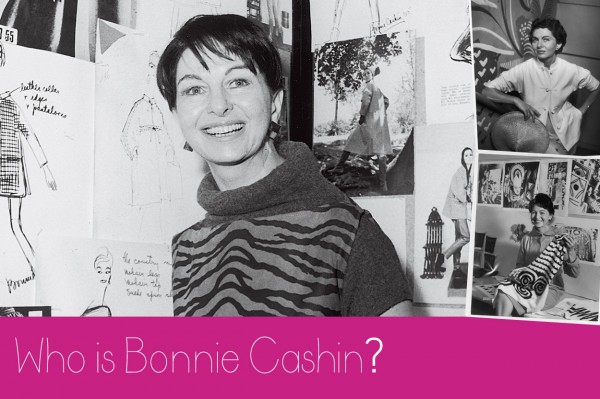 First thing first, do you know who Bonnie Cashin is? You might know her for one of the positions that she held as a designer, but let's keep it to ourselves first, shall we? This might be a lengthy post, but I promise you the life of Bonnie Cashin is no boring one.
Cashin is often referred as the 'Mother of American Sportswear'. Her approach towards women-wear is practical, flexible and easy heralds new freedom in the way American women dresses. It allows women to feel comfortable and move freely in their own clothes. Sportswear is what the American often refer as the Ready-to-Wear collection.
She is one very talented designer born from a seamstress mother and photographer father. Started her career as early as 16 years old for Franchon & Marco, a Los Angeles dance troupe and afterward landed a job as the youngest designer in Broadway by holding the position of chief costume designer for the Roxy Theater's "Roxyettes." It was that job that finally took her to the door step of Adler & Adler to become their designer in 1937 and designed for them due to the recommendation of American Harper's Bazaar editor Carmel Snow.
But she soon saw the need of a new challenge where she decided to move to Hollywood in 1943 and nailed the job as the costume designer for 20th Century Fox. She designed many costumes for various movies, but perhaps her work was as the costume designer of Anna and the King Siam (1946) that most of you have heard of. We're talking about the original movie, mind you, not the one played by Jodie Foster and Chow Yun Fat.
Bonnie Cashin's Career as a Designer
After her career in Hollywood, Cashin decided to go back to New York and worked for Adler & Adler again for short period of time before she opened her own studio called the Bonnie Cashin Design Studio. At her own studio, she had the freedom to design whatever she wanted, even broke the design norm for that period if she wished to.
Unlike many designers at that time, Cashin decided that she didn't want to be tied down to one label. It was perhaps because she wanted the freedom to design whatever she wanted. She didn't even have a design assistant. She oversaw everything personally, from start to finish, sketch to production. Even a licensing boom in the 70's didn't tickle her at all to join where the majority were heading. Too bad, because probably if she had licensed her label, we probably still see the design from the label until today. She did however collaborate with several companies such as Bergdorf Goodman, Liberty of London, American Airlines, Samsonite and White Stag.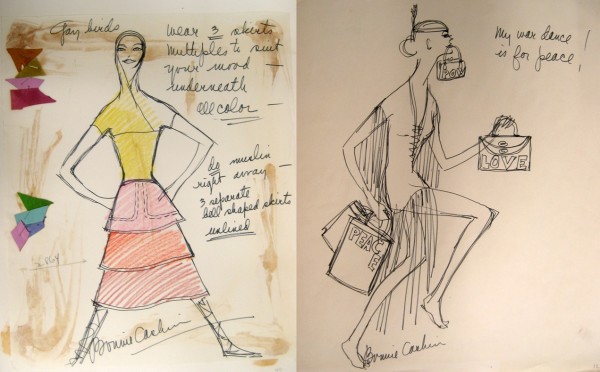 Coach's Bonnie Cashin Years
It was perhaps one of the best decisions that Coach ever made by hiring Cashin in 1961. It revitalized the brand's image, especially with female audience. The partnership that span until 1974 has produced so many collectible-worthy items. The Coach classics collection that was one of Cashin's masterpieces is one example. It has been reissued this year, during which the brand is also celebrating their 70th years anniversary. This collection gave birth to one of Coach's hallmark bag; the duffle bag.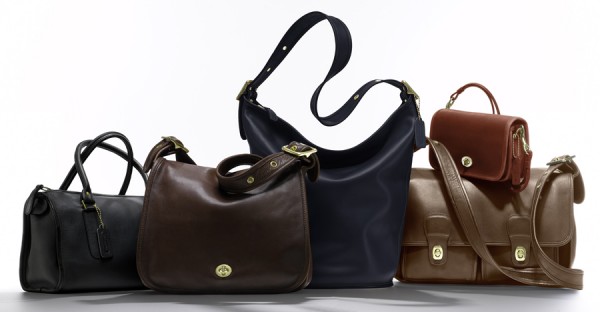 L-R: the Madison Satchel, the Stewardess Bag, the Duffle, the Shoulder Purse and the Field Bag
Cashin instilled colours in the various leather bags she produced with Coach. Bringing a fresh view for the normally neutral and dark coloured leather bags that were available at that time. She also created what later became one of the brand's trademark, the turnlock, used in both their bags and clothing. Not surprising at all, because Cashin was one of the first designers who used industrial material such as the turnlock, industrial zipper and brass toggle in clothing and accessories.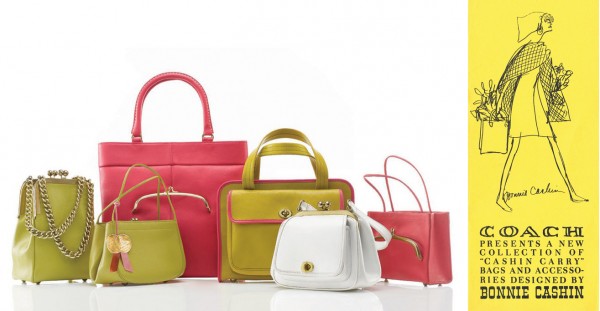 The Bonnie Cashin Collection
When you see Cashin's sketches above, you might be familiar with the strokes, right? Yes, it probably reminds you a lot of the Bonnie Cashin Collection a couple of seasons back.
It instills many elements that are Cashin's signatures. Colourful design, use of coin pockets, brass toggles and zippers. The most obvious homage is of course the sketches used on the bag's designs itself. It signifies how memorable Bonnie Cashin's work is for Coach as a brand.
The Design Signature and Stories
As I mentioned above, Cashin is one of the first to introduce industrial materials to be used on accessories and clothing. But it's not all that she has done.
She is also one of the very first to design canvas raincoat.
Created the poncho from her own experience while driving in her convertible. She felt that she needed something warm to wrap her up while she was driving, so she decided to cut a circle in the middle of her blanket for a hole to insert her head.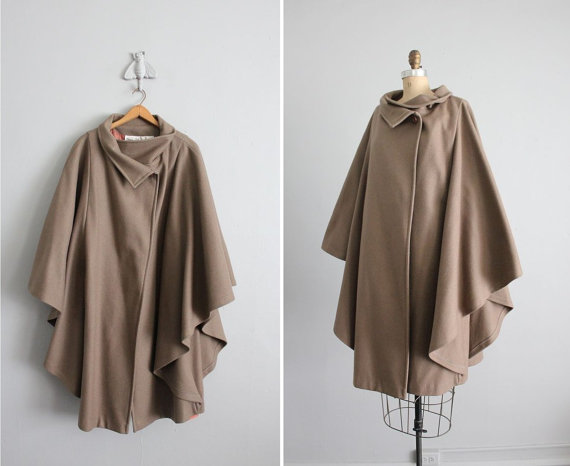 But she was also one of the first designers who introduced the idea of layering in colder weather condition, allowing people to adapt to the change of weather in terms of wardrobe more easily.
Below are some more pictures of the design created by Bonnie Cashin.
I hope you all enjoy the story in the life of Bonnie Cashin.