Forum Member In The Spotlight: Ayang, The Woman Behind cocomomo
If only I had a personal genie, I would ask to have a talent in art. Be it music, drawing, painting or whatever. Ayang Cempaka is one lucky woman who has a big beautiful art bone in her petite body. She is the creative force behind cocomomo, the brand that produces pretty, cute, and unique stuff like bags, organizers, wallets, etc. Below is our interview with her.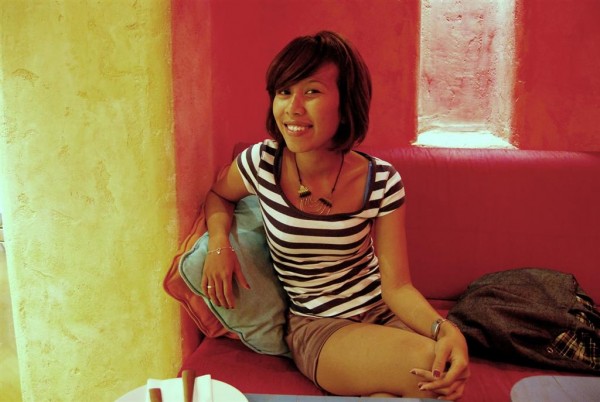 You are such a talented artist. When was the first time you realized that you fell in love with art? Do you have any art educational background?
Thank you! I actually don't have any formal educational background in art (unless you count architecture as art). My family background and environment are probably what made me love art. Almost all my family members are artists. My mom is a painter, my grandfather is a painter and sculptor. My cousins are curators, musicians, interior designers, theater, ceramics… you name it. I guess it's true that the fruit doesn't fall far from the tree… tsaaaahh

And believe it or not, I used to feel really nauseated at all kinds of arts activities because I was constantly around it! I once wanted to become a veterinarian instead!

As for when I started to fall in love with art, I don't really remember… it just happened naturally.
What is your inspiration for creating cocomomo?

My inspiration comes from working at home and doing something enjoyable. All cocomomo items are influenced from random fun things as there are so many random fun things in this world! The blue sky, the ocean, sooo many different colors, Japanese handmade books, big trees, fashion pages, animals, fruits and veggies at the market, kids, colored pencils, children's books, flowers, kites, colorful shoes, bread, and even clotheslines! Ha! So many random things in this world can inspire me 🙂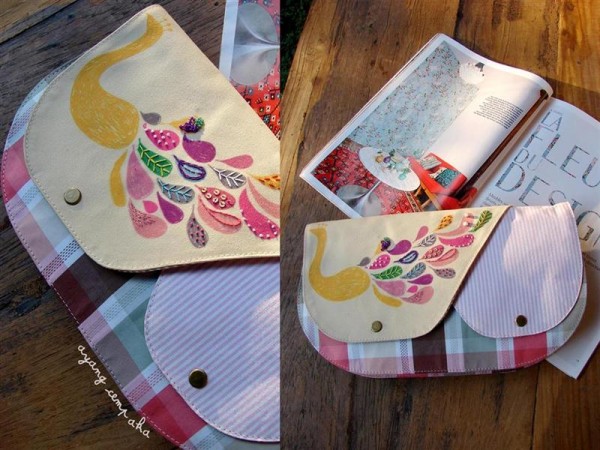 What is your biggest cocomomo achievement? You know , the moment that you think you've made it.
Hmm… I can't think of anything specific but I am happy and grateful that my customers enjoy my items as much as I enjoy making them.
So tell us now, what's new from cocomomo? 😀
Well, cocomomo is going through some big changes this year! In the past, cocomomo items would randomly show up on my blog, on and off. Now that cocomomo is under new management, there will be a few changes. First, we will be launching a new website in a few months (don't worry I will still be blogging on there too :)) . Secondly, we are creating ready-made limited (very limited!) quantity items with new designs and different combination of material. We will ensure to only make small batches so everyone has something unique and we can control the quality of each item personally 🙂 Last but not least, Insya Allah by mid-year we will be selling our items offline in Jakarta. Yippeee!
Email askcocomomo@gmail.com if you want cocomomo updates 🙂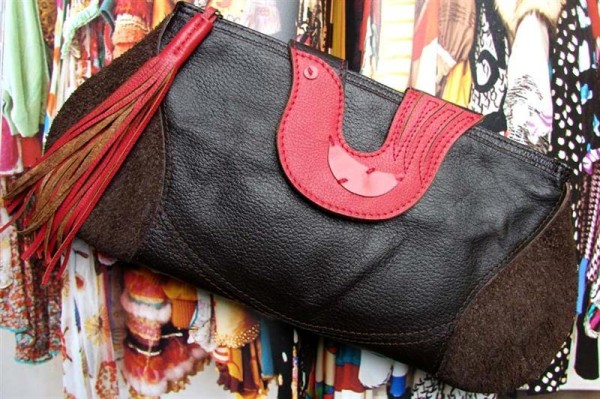 Have you ever experienced the so-called artist's block?  How do you handle the business side of Cocomomo? Have it ever clashed with your artistic side?
Of course! I think artist's block happens to almost all 'planners'. For me personally I think getting out and finding new random things I don't know about helps bring back the fresh breath of creativity. As for the business side I often dream big and want to make things that are super fantastic and fabulous! But at the end of the day it may be unrealistic production wise or cost wise. So sometimes I have to learn to compromise. It still doesn't stop me from dreaming big though 🙂

What do you do to have fun? (beside painting and creating cool stuff?)
I really like hanging out at home. As long as there is internet and snacks to munch on I am pretty happy. I like browsing bookstores (kids section and Japanese comics), eating out with friends and my husband, movies, watching concerts or art shows or whatever is happening at my mom's work (She works at the cultural center in Jogjakarta and there are so many events to go to). And my latest craze… cooking!
Describe your fashion style
I dunno… simple maybe? Unlike cocomomo that revolves aorund big burst of color and excitement, I usually stick to safe colors and only add a splash of fun with an eye catching or colorful accessory.
And now, tell us a bit about your newlywed life 😀 (when was the exact date again?)
I got married on August 9, 2009. One month later, my husband left for Dubai. I joined him four months after that. So we are really feeling like newlyweds now! It feels great! Not much has changed since before we got married except we get to sleep in the same bed without anyone complaining and sometimes I wonder… when is he going back to his own house?? Hahahha… we still think we are dating. It's really nice to live together legally with someone who is not only my husband but also my best friend.
Are you sad that you're leaving your country behind? or maybe leaving your growing 'baby'?

I'm still adjusting to life in Dubai. To be honest, this is the first time for me to live away from my family and everything that I'm so familiar with. I'm learning to be more independent and learning to cook! I used to think I would poison my husband if I cooked for him hahaha but collecting recipes, shopping for supplies, and testing out my cooking at home is actually really fun.
cocomomo is still going strong even though I am in Dubai. It's actually a good experience for me to learn to trust other people. Luckily I found a partner who shares the same vision for cocomomo, even though her background is completely different (she used to be in TV production). Hopefully Dubai can give me positive new inspirations for cocomomo 🙂
Sum yourself in five words
I have no idea, Vanya. :p
Talkative (bawel maksudnya), easy going, super friendly, spontan, creative. How about that? 😀
How did you find Fashionese Daily? And what makes you stick?
Because of some FD members. They suddenly showed up asking about cocomomo and said they were talking about it on FD, which made me curious so I ended up joining and reading and discussing and so on and so on. Also… I love market plaza! Hahaha… Who doesn't??
You know that recently we had some changes in the blog and forum. The major one is to change the forum name to Female Daily (related article here) What do you think of that?
Yes I read about that! The office looks so fun! I love the fuchsia wall!!! The name change to female daily sounds more representative of the forum too, it's not just all about fashion all the time. Wuhuuu! U go girls! go! go!
Thank you for your time, Ayang. We wish you a fabulous time in Dubai and the best of luck for cocomomo. Looking forward to hear more good news from cocomomo 🙂